News This Week (1st - 5th Feb) - Brought to you by Satoshi

and Pikachu

Why? Because Eric our Webmaster will be away this week serving his country by being in the military service. We wish him all the best and we hope to have him back with us soon.
---

Dated 6th Feb '99
"Couldn't bear to leave you... sob! sob! But before I really take my leave, here's more news that I thought I'd share with you."
IN EUROPE...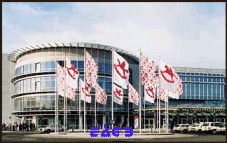 A picture of The 50th "Spielwarenmesse" Toy Fair in Nürnberg, Germany from Matthias who reports that even though he wanted to attend the fair this weekend since it's only 150km from his house, he can't. It's only open to trade and even then, there have already been 50,000 visitors.

Seems like it's a time for all sorts of game and toy fairs because next week in Cannes, France, at the Milia Games Trade Show, Infogrames will be showcasing 2 Color GameBoy games - Carrot Crazy and Twouble!.


IN THE UK...
Friend of EAGB Peter Elliott tells us that Zelda DX is released in the United Kingdom today (5th Feb). Peter says:
"The release in the UK has a completely different box than the US release being almost dark black background (textured rock) with no rasied shield or lettering. The manual follows in the same style."
Thank you Peter and we look forward to receiving a picture of this box art soon.
IN THE US...

Nintendo of America shares a new preview with us. Take a look at a new puzzle game titled Logical, from Conspiracy Entertainment. This one promises 99 levels of brain work if you're up to it.
Also in the Big N's site is a WarioLand 2 strategy guide and FAQ for those who just got the game or are stuck because what you have is the Japanese import version.



IN JAPAN...


More and more developers are taking interest in the Color GameBoy's competitor, the Neo Geo Pocket Color and will be producing games for it. Guess it won't be long before we see a mini versions of Playstation games such as Tekken 3 from SCE, a new type of Tetris from BPS, Puyo-Puyo from Complie, and Family Stadium Baseball and PacMan from Namco.

On an interesting note, EAGB also got this e-mail from ARt Siriamonthep today. Art says:

"I dont know about you but its kinda obvious to me that the Neo Geo Pocket is so much better. Bigger screen and better graphics and also its uses two AA batteries like color gameboy and it lasts longer. I've seen the screen shots and it looks like super nintendo. Gameboy color is like it but not quite but the neo geo pocket is supernintendo. Also Neo Geo pocket's king of fighter 95, the people are kinda big and very detail. My main concern is that can color gameboy have big characters in fighting games? No small characters like KOF95 for gameboy. Also i think the color gameboy might lose the only way i think it can win if they have more pokemon and more FF games on it."

Hmmm...





Dated 5th Feb '99

"A sad day for Pikachu and myself because this will be our final coverage for news this week. Eric and Val will be back with you tomorrow. It's been great fun sharing a week of GameBoy happenings and a whole lot more with you. We would also like to take this opportunity to wish EAGB all the best in all that they do. Long live EAGB!!! We love you!!!"

IN EUROPE...

The 50th "Spielwarenmesse" Toy Fair in Nuremberg, Germany, opened this morning and unfortunately, due to Matthias' exams, he wasn't able to attend the event. It was a hall full of about 3,000 exhibitors including Nintendo who proudly showed off new Color GameBoy games such as Shadowgate Classic, Smurfs in Nightmare Land, Lucky Luke, A Bug's Life and The Mouse (or Die Maus) for the European market.

Nintendo also announced that starting June, they will introduce 4 new case colors for the Color GameBoy. And since Europe, like the US, only has purple and clear-purple now, I guess we can safely say that the 4 other colors will be blue, yellow, red and clear-white just like the ones released in Japan. Let's hope our GameBoy friends in the US get the 4 other colored cases as well.
Also, like the US, Europe will also have a car racer as it's first rumble pak game. Titled Top Gear Rally, the game will be one that's by Mitsui.

IN THE US...
Accessorise your Color GameBoy with 2 new items from Interact and Mad Catz. New in stores is the Color GameBoy Protector which is rubberized and tough enough to protect the Color GameBoy's sides, edges and screen. Best of all, the Protector doesn't hinder gameplay. Sure, Asia had their version of the Protector from Blaze but US gamers can get their own and save money on imports as this one costs only USD$7.99.
Need more power and yet find that you're wasting too much money on batteries for your Color GameBoy? Then pick up the Mad Catz Power Pack which costs only USD$14.99. This rechargeable battery lasts for up to 10 hours on a single charge, snaps directly into the Color GameBoy's battery compartment and plays without cords. What a way to go!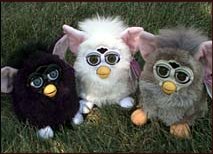 Pokemon and Furby Return in this year's 1999 Toy Fair that's scheduled for next week in the good 'ol US of A. Pokemon and Furby are "kids" from the same "parent" Hasbro who announces that you will soon see your favourite Pokemon appearing in a new series bean-filled plush toys, as a large Pikachu plush character, a Pokemon roll-along, stampers and in micro playsets. If you're a Pokemon collector, you may wanna grab what's on the shelves now 'cause once the new ones are released, these will be retired.
As for the Furby, it's gone multi-lingual as the new ones come speaking French, German, Italian, Japanese or Spanish? Matthias says that a Furby in Germany will cost about 120,/-DM and stores are taking pre-orders as of now.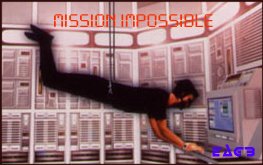 Mission "not-so" Impossible for this wonderful N64 game to come to the Color GameBoy. Fall is the expected release date for Mission Impossible GB which will be 2-player linkable enabling players to exchange encrypted messages with each other. More from Infogrames soon.
| | | | |
| --- | --- | --- | --- |
| | | | |
Another game to look out for is Saffire's Dogz and Catz. Breed virtual pets on your GameBoy this August. yes, it's gonna be in color too.

Pokemon the Card Game proves to be just as popular as the GameBoy game. Since it's release 6 weeks ago, Wizards of the Coast has sold close to 400,000 packs already. 10 times more than their expected sales. Seems that everybody wants a piece of Pokemon action because Electronics Boutique sold out their 50,000 booster packs with just pre-orders alone. Will we see different colored packs just like the Japanese ones? What about specially made deck holders, playing mats and even carrying kits. We certainly hope so if this fever continues.



IN JAPAN...





Tokimeki Memorial by Konami is scheduled to be released on the 11th of February in Japan. As previously announced on EAGB, this dating simulation game will have a mini beatmania game for you to impress the girl with. Know what? Tokemeki Memorial at 32MB is also the biggest GameBoy cartridge in GameBoy history!



| | | |
| --- | --- | --- |
| | | |
Sakura Taisen Columns, that's the game that's rumoured to be in the works for the Color GameBoy in Japan. Based on the dating simulator and strategy game called Sakura Taisen (or Sakura Wars), this tetris-like colored cube game will include the characters Shinguuji Sakura, Kanzaki Sumire, Maria Tachibana and more. This will be an interesting one to watch out for.
More Neo Geo Pocket Color Screenshots. From top left to bottom right are some of the 15 games that will be released with the set on March 19th. Each sold seperately of course.
4-Player Mahjong by ADK - with wireless communication support.
Baseball Stars Color by SNK - ported over from Neo Geo, it is linkable with a link cable.
Champion Baseball by ADK - an arcade port-over with edit mode to let you ceate your own players. Also with link cable support.
Dragon Wilds by Daina - a card game of poker.
Link Puzzle 2 by SNK - the colored version of the popular NGP puzzle game with 3 difficulty levels and 3 play modes.
The King of Fighters R-2 by SNK - in full color, with new characters not found in the black and white version. Also with link-cable support.
Neo Cherry Master by Daina - a colored version of the NGP casino game with slots and cards.
Pocket Tennis 2 by SNK - with up to 8 characters to choose from. Also includes a training mode.
Dive Alert by Sakuros - with wireless communication support, this is an undersea vehicle simulation game with lots of enemies for you to battle against.

Also look out for games like Big Tournament Golf, Neo Geo Cup '98+ and Digital Primate from SNK. And Crash Roller Pocket, The Major League, High School Baseball, Pocket Fishing, Hyper Gals Mahjong, Billiard Break Shot and Battle Royal from ADK on release day.





Dated 4th Feb '99
Haven't tried your Color GameBoy's infrared port yet? Don't dispair 'cause with PokemonCard GB, you can do just that. Know what? It's also printer compatible and in color too. Yes, it's an import game but lots of Pokemon fans have written in to tell us that it's not difficult to play. You don't need to be able to read Japanese to understand what's going on. And, very much like the previous import (Jap) versions of Pokemon, once you get the hang of it, you'll be well on your way to be PokeMaster.
More details about the game and even a chance to win yourself a copy of PokeMon Card GB from a friend of EAGB, PokeAbode. It's an excellent page with lots of Pokemon coverage. You name it, PokeAbode has it. Even a download of a PokeNet Explorer with links included. Cool! Well, what more can I say but go there now!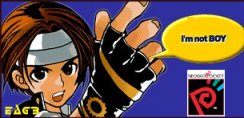 Oops! Do we see competition here? This is a recent Japanese Neo Geo Pocket Color advertisement. For US gamers, word is out that the Neo Geo Pocket Color will hit storeshelves this summer. SNK hopes to release all of it's existing NGP games for the US but sad thing is that till now, there aren't any US third party delevopers interested in producing games for this system. How will our boy fair? Is Pokemon power stronger than any or all of the King of Fighters? Guess we'll just have to wait and see.

Dated 3rd Feb '99
Chessmaster is coming soon to your Color GameBoy and it's not surprising because this series of history's greatest game has been Nintendo's staple since NES times. Chessmaster GB will have 16 difficulty levels of play to suit each beginner and grandmaster. Need that human touch? Want some friendly competition? Then you'll be pleased to know that it is 2-player linkable via a link cable. Sharpen your chess skills and get ready for it's release in April. If you're still not confident enough by then, don't worry because included in the cart is also a teaching mode.
If you're not particular about color, then you can make the first move and pick one up now because it is already available as a regular GameBoy game.

More Color GameBoy Games at Nintendo's website. Check out Legend of the Sea King and Elmo's ABCs amongst the many.
Mario Golf by Camelot for the Color GameBoy is rumoured to be a 64GB compatible game. It seems that Mario's buddy Luigi and Princess Peach will also be in the game. But what data will be transfered between the Color GameBoy and the N64 is not known yet. Would we be able to play the Color GameBoy version on the N64 ala Super GameBoy style? We certainly hope so.
Just released from Neo Geo of Japan are the 6 colors for the Neo Geo Pocket Color. From top left to bottom right are... marble blue, platinum white, crystal white, carbon black, camouflage blue and platinum blue. Hmm... seems to be the same as that of their monochrome screened sibilings. The only difference we seem to have noticed is that the buttons of the crystal white ones are different. On the Neo Geo Pocket, the buttons are clear green whereas the one shown above has clear blue ones instead.

Dated 2nd Feb '99
For a taste of Pokemon, literally. In Japan, supermarket shelves have been hit by tons of Pokemon foodstuff and here are a few of our favourites... vegetarian pizza... chocolate milk and custard jelly. Yummy!!! Actually, some of these can also be found in some US Japanese import stores such as those in Japan Town of San Francisco. Catch 'em if you can.
Want a cool import game with lots of action and adventure? Then B-Daman (Bomberman) is the game for you. Just out in Japanese store shelves, B-Daman is an action RPG where you fight, win battles, upgrade your weapons and armour and take on the "kings" of the various worlds. Haiyah!
First it was the GB Getter... then now the GB Getter 2. Seems that besides being able to notify you when a fellow GameBoy player is close by, the GB Getter 2 will also enable you to exchange data and play link compatible games without the need of a link cable. It will however utilise it's own IR port and not that of the Color GameBoy (which must have specially programmed IR available games in order for it to work).
Fans of King of Fighters will be in for a real treat when they get to play the Neo Geo Pocket Color version on March 19th. Not only will King of Fighters Round 2 be a fantastic game but it's the first time that a KoF game has been colorised for a handheld system.

KoF R-2 will be based on KoF '98 so you can also expect to see the original cast of Omega Rugal, Leona, Chris, Shermie, Kyo, Iori, Mai, Athena, Yuri, Shingo and even Kyo's father Saishu of KoF '95 and Kasumi of KoF '96.

A throughly impressive line up of fighters for you to breed and train. Yes, you heard right... breed too. Hee! Hee! Imagine if you could get a baby Omega Rugal. Way Cool, huh?

Dated 1st Feb '99
What better way to power up your GameBoy (especially for Pokemon) than with these specially designed Pokemon Batteries from Fujitsu of Japan. Each pak of four "AA" batteries has 2 pairs of Pokemon characters and a free collector card sticker. Iketeru!

There is no news however if any will be exported for sale in the US.
Sandbox Studios, a new software development company is currently developing some action, sports and kid's games for the Color GameBoy and a few other consoles. Although it's a new studio, it's president Steve Bergenholtz is a former president of Utopia Technologies (makers of Montezuma's Revenge and Montezuma's Return) so we can definitely be sure that we'll be getting quality games.

Sandbox claims to be able to create software titles from conception to completion in three to six months. But as of now, there are no details of specific games being mentioned. Watch out for more in the coming weeks or check out their site for some Color GameBoy surprises.
| | |
| --- | --- |
| | A "pre-public" announcement from Todd for all EAGB readers. Subscribe to Todd's GBC-DX mailing list for a discussion of all things relating to Nintendo's popular portable, the Game Boy Color." |
---
Kindly send your e-mails this week to...
Thanks!